UCLA Women's Club Soccer Coach: Juan Urquieta
Its mid-summer, and your student athletes are either on a backpacking trip to Europe, relaxing at a beach, camping with their families, or taking summer school classes to ease up their curriculum. As a coach, no matter the sport, it's become a habit to think ahead. You make time to reminisce about the previous year; the victories, the most memorable goals, and the unfortunate losses. That's when you begin to think about ways in which your team could have done better. Just as you are planning ahead towards the new season, you come across the first big challenge; you can't count on your team for another couple of months. You start come across questions like, 'what can I do now to begin preparation?' or 'can anything be done to begin preparation?' In soccer, it's easy to think that all the improvement to a team could be done during practice, or even before or after the games themselves, but the truth is that the idea of improvement needs to start weeks before the first day of practice. I refer to this as 'Minute zero.'
The Concept
The idea behind the 'Minute Zero' concept is to think outside of the box. Sit and really analyze the way your club team functions. In this case, I am not referring to the game play itself, rather the team functions outside of the field; from the scheduling of field space to reserving vans to travel. Think about creating an organized system that could revolutionize the way your club functions. The goal is to improve the overall organization of the club to relieve pressure going into a hectic club soccer season. The following are guidelines that, as a coach, should be taken into consideration prior to the new season. You may have a system that works for your program and if that's the case, then you are on the right track.
Points of Organization - Check List
Contacting the team during summer

Setting a strict pre-season workout plan

In house management

Filling in the gaps – Open tryouts

Setting a new team goal for the season

Team captains meeting

Team meeting
The Official Head-count
Getting in contact with the team is the first step towards starting off pre-season organization. The key is being proactive. Thinking ahead to the first practices of the season, you want to have an official number of the players you can count on for the upcoming year. Make it very clear that you want players who are going to be fully committed to the team from day one. So setting a base standard with the players puts your positon, as the coach, in perspective and allows you to move forward. An important point here to consider is being understanding of everyone's personal situation. Now, if there are players that can't be fully commitment to the team, make it clear that it's understandable, because at the end of the day, the first priority should be school.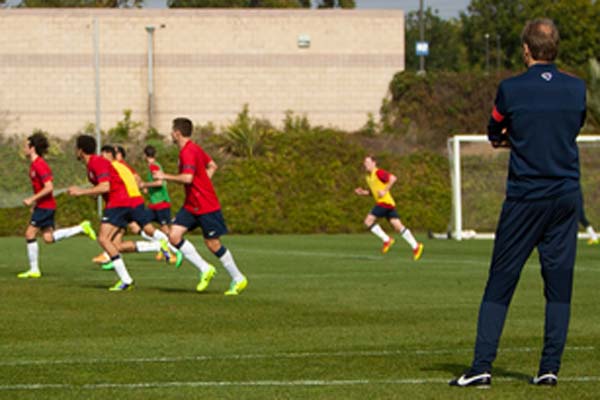 The Summer Work-out Plan
Now that you have an official number of returning players, you can start setting initial team goals. Collegiate club soccer is a very different because, before you know it, the season has started and you barely have a full team to compete at the first official league game. The biggest challenge every year is starting off the season semi in shape. Every player is different, therefore, you will get players who love to stay fit and are active all summer and, on the other hand, you will get those who take their vacation seriously. Being understanding of both of these situations is very important because that will allow you to have a clear mind to plan ahead. Again, the here key is being proactive and setting standards. Being honest and straightforward with players is the best way to go about it. Make it clear that it's important that the team advances forward together, fitness wise, and if they fall behind that will only affect their performance and playing time at league games. In the end, you want your players to take it a personal, and compete with each other. So set up a strict workout plan that starts about a month prior to returning to school. That will give your players enough time to get in shape before pre-season training, and thus making the transition into tactics easier for you and your team.
Internal Organization
Most club teams have an internal organizational system that allows them to split up team responsibilities between the most experienced players. For example, the President, VP, Treasurer, travel coordinator, and team captains system are the most successful. Once you have an official system in place, being proactive and informed about all that is going on, as a coach, is important. Deadlines come and go faster than you think and if things aren't done in a timely manner that could mean your opportunity to compete in a national tournament. Below are some deadlines to keep in mind.
Team registration fees to the league.

Reviewing and revising the game schedule, this means contacting opponents to change game dates, times, or location, etc.

Contacting club office and getting field space for games and practice before other club teams.

Contacting referees to making sure that will be present to your home games.

Payments to referees in a timely manner.

Payments to tournaments, this includes National tournament.
The Newbies
Setting up a successful tryout is challenge, mostly because of the number of student athletes turn up to tryout. Now the question is, how many players do you really need and for what positions?
The best way to go about it is to analyze each line starting from the GK to the forwards. Always keep in mind, that you have a new group of seniors who will be graduating at the end of the year so you may need a few extra players. Now that you an official number it's time to host tryouts. Before they begin, make sure to be clear with the players trying out. Let them know what you expect from them as players, this includes during practices, outside of practice, and during games. At the same time make sure they get a taste for what your practices will be like, which will also give them a feel for the atmosphere around the team. Make sure they know who they will be representing and the history behind the club because at the end of the day they will become part of an experience they will remember for the rest of their lives.
The Goal for the Season
The new team is set and ready to begin work, but before the real work begins a team goal needs to be set into place. Setting a goal to build on is crucial as it will serve as the reference point going forward. Whether it's to score more goals, which means more practices that include finishing for example, or improving team chemistry.
Captains Meeting
Host a captains meeting to talk about what could be done to improve from last year and agree on a mutual team goal. It is important to establish a good relationship with all of your team, but in particular with your team captains. Having a great relationship with the captains smoothens the transition of your ideas, as a coach, to the rest of the team, which then helps establish great team chemistry on and off the field.
Team Meeting
Lastly, a team meeting to discuss and review updates regarding the league, nationals, and to set team standards and goals. As a coach you want to make sure that, after you introduce the team goal, everyone is on the same page. Be clear and straightforward, let them know that they are all there for one thing and one thing only, and that is to continue to play the sport they love at a competitive level while in college. Also, be clear and express your acknowledgement that the team isn't NCAA, but that they are in the league to compete and at the end of the day they represent a prestigious institution, their peers, the club team, and most importantly each other as a team/family.
Conclusion
The Club soccer season is extremely hectic for a handful of reasons and being a student athlete is no joke. As a coach, you set standards and goals to your team because you want to teach them the responsibility that comes with commitment. The idea of being proactive plays a huge role in improving the organizational structure of the team, but most importantly it starts a habit that could be taught to future generations. Thus, taking another step to becoming a more organized and successful club soccer program.